Popolo di The Shield Of Wrestling, benvenuti! Alla tastiera Alessandro "Jin" Leone, come ogni settimana, con Indy Wrestler Of The Week!
INDY WRESTLER OF THE WEEK – CHUCK MAMBO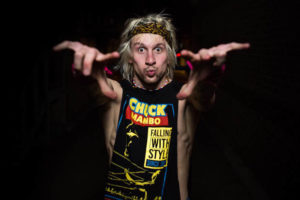 Indy Wrestler Of The Week difficile da assegnare, a causa della scarsità di grandi eventi in questo periodo. Mambo si erge con due vittorie, una in ATTACK! contro Connor Mills di mercoledì, ma soprattutto quella di martedì in IPW: UK contro Chris Ridgeway, nome sempre più importante. Da menzionare, giustamente, anche i due match lottati nelle serate del FCP Tag Team Invitational, con però due sconfitte: una nello Scramble Match della Night 2, l'altra contro Rey Horus nella Night 3.
C'è altro che merita menzione.
Buona prova della Defiant con il PPV Light's Out, proponendo una card con alcuni match davvero interessanti, specialmente PAC vs El Phantasmo e Mark Haskins vs Robbie X. Su tutti però il Main Event, No Disqualification, con Rampage Brown che riconquista il titolo mondiale sconfiggendo Rory Coyle.
Ormai non si può concludere un Indy Wrestler Of The Week senza menzionare questa coppia.
Gli Aussie Open hanno avuto una settimana maiuscola ancora una volta (ma va?). Medesimi show ATTACK! e IPW: UK di Mambo, con una vittoria nella prima contro The Legion Of Rot (Frightmare e Hallowicked) mantenendo i titoli della federazione, ma da sottolineare l'altra con gli A2A (Addicted 2 Adrenaline, Joe Lando e Harrison Bourne, ben noti al pubblico italiano), dove hanno sbeffeggiato la WWE. Infatti, si sono presentati come The Aussie Experience: Dunky (Mark Davis) e Fletch (Kyle Fletcher), cavalcando l'onda di umorismo legata al nuovo nome dei War Raiders (Hanson e Rowe), ora The Viking Experience (Erik e Ivar), che ha fatto il giro del web, con totale disapprovazione da parte dei fan. I due giovanissimi australiani si riconfermano non solo dei performer eccezionali e, a mio parere, uno dei migliori tag team al mondo, ma anche degli eccellenti intrattenitori. Non posso che aspettarmi un futuro sempre più roseo, come il presente, per questa splendida coppia.