Carissimi lettori di The Shield of Wrestling, alla tastiera c'è il vostro caro Phoenix pronto ad introdurre un nuovissimo progetto sotto la sua direttiva: Pills of Wrestling, un appuntamento settimanale dove poter parlare liberamente, tramite disamine strettamente soggettive, delle gemme nascoste all'interno della disciplina old school. Non perdiamoci in chiacchere e iniziamo!
•The True Beginning – Pills of Wrestling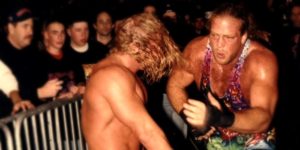 Living Dangerously 1999: Rob Van Dam e Jerry Lynn collidono in un match valevole per l'ECW World Television Championship del primo. Non è il loro primo scontro, ma è il loro primo, vero  capolavoro. Assistiamo ad una prima fase di schernimento davvero perfetta, con il pubblico visibilmente estasiato alla visione di tutto ciò. I due sanno come gestire il tutto, hanno un'ottima alchimia che combinata a qualche spot extra ring risulta essere ancora meglio. Il finale è pressoché perfetto: Jerry vince per time limit ma, essendo in una federazione così cruenta e con dei fan esigenti, rifiuta e fa ripartire il match. Mai scelta fu più sbagliata, dato che perse in seguito ad una Five Star Frog Splash. Questa era decisamente una prova del 9 superata, che avrebbe portato al capolavoro supremo – ne parleremo sotto – che ha consacrato questi due all'interno delle gerarchie ECW.
•Rob Van Dam vs Jerry Lynn – Hardcore Heaven '99: A True Masterpiece – Pills of Wrestling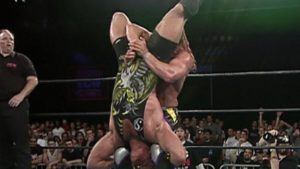 Ancora una volta il titolo ECW è on the line, 'ma non c'è un tempo limite. Nella comunicazione non verbale esiste il linguaggio del corpo, ma nella ECW esisteva un linguaggio molto più evoluto e triviale, ma al contempo raffinato sotto ogni punto di vista. Una perfetta dicotomia che Rob Van Dam e Jerry Lynn hanno saputo combinare durante il suddetto match. Agli occhi dei più potrà sembrare uno spotfest abbastanza carino, ma vi assicuro che non è così: l'inizio soddisfa i palati più fini, regalando una dinamica fase di sviluppo che porta i due a sfoggiare un atletismo non indifferente, combinato a del Mat Wrestling maestrale. Il Fil Rouge non si spezza mai, gli atleti coinvolti riescono a creare un forte link con gli spettatori offrendo una contesa che catalizza molteplici stili di wrestling, fra cui il technical e, per l'appunto, l'hardcore. L'incontro, seppur vinto da Rob, dimostra che Jerry Lynn – nonostante abbia bisogno di mettere altro fieno in cascina – è il perfetto avversario di Mr. Monday Night e difatti i due si scontreranno ancora.
•Some Old Stuff – Pills of Wrestling
Rob Van Dam e Jerry Lynn si sono riaffrontati in molteplici occasioni, ma in tempi decisamente diversi, non riuscendo a replicare un tale capolavoro. Come giusto che sia. Fatto sta che in molti hanno sempre dimenticato questa serie di match, a mio parere imperdibile, che andrebbe vista per tutti i motivi suddetti. Questa è semplicemente la punta dell'iceberg della tanto amata ECW, ma magari approfondiremo in futuro.
Io vi saluto, voi nel frattempo fatemi sapere cosa ne pensate dell'argomento trattato. Alla prossima!